Madison Polish Film Festival: "Back Then"
November 21, 2021 @ 2:30 pm

-

4:30 pm
Back Then (dir. Kinga Dębska, 2021) | Polish title: Zupa nic | Running time: 94 min
Sunday, November 21, 2:30 pm
UW Cinematheque
Vilas Communication Hall, 821 University Ave, Madison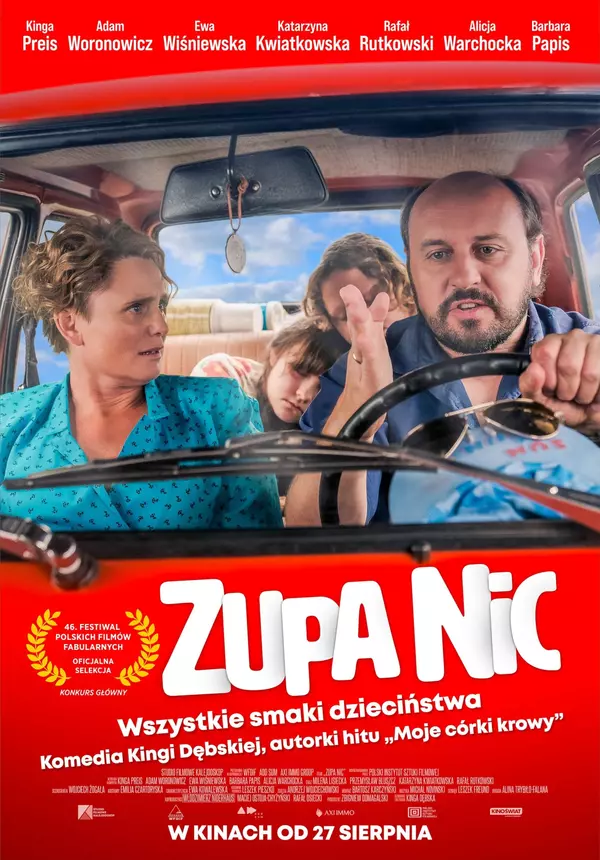 Synopsis:
Marta is a romantic and a school victim of fate. He shares a room with his sister Kasia and grandmother, who tells her granddaughters insurgent stories instead of fairy tales. In the room behind the wall, my parents – Tadek and Elżbieta – live their married life. He is a constantly humiliated intelligent by the system who silently envies his prosperous brother-in-law. She is the president of the company's "Solidarity" with the need for freedom and a dream to finally break out of Poland. However, the real emotions for the whole family will start when the dream orange toddler stands under the block. It will turn out to be an unexpected catapult to the big world – the family will go to Lake Balaton with a toddler with luggage on the roof. Ela and Tadek will discover a vocation to trade and travel abroad, and the growing up Marta will fall in love again (IMDb).
Trailer:
Sunday, November 21 screenings
On the second Sunday of the festival (November 21), the screenings will take place a short walk from the Marquee at the UW Cinematheque. The Cinematheque serves the Greater Madison Area community by showcasing the best international films and other films that would not reach larger screens. With one of the finest projection facilities, the Cinematheque provides an excellent viewing experience thanks to its support of multiple high-definition video formats.
Location and parking
The Cinematheque is located in Room 4070 on the fourth floor of Vilas Hall, 821 University Avenue in Madison (south-east corner of the Park Street and University Avenue intersection). Room 4070 is accessible from Park Street (elevator and stairs) and the stairs facing University Avenue and University Square. Parking is available on the Lake and Park Street lot, Johnson and Lake Street lot, the Fluno Center underground lot on Frances Street, in addition to numerous UW and City of Madison parking options. The Cinematheque is located close to bus routes 2, 7, 4, 6, 7, 8, 11, 12, 13, 15, 28, 38, 70, 72, 80, 81, 82.
For more information on UW Cinematheque parking, visit this guide. To find the best bus route, visit the Madison Metro Transit trip planning guide.
Celebrating Polish cinema at UW–Madison since 1991
The annual Madison Polish Film Festival is co-organized by the UW–Madison Polish Studies program and the Polish Student Association in collaboration with the Department of German, Nordic, and Slavic+ (GNS+), Center for Russia, East Europe, and Central Asia (CREECA), Wisconsin Union Directorate (WUD) Film Committee, and the Polish Heritage Club, Madison–Wisconsin. Inaugurated in 1991 by our longstanding Polish language lecturer Dr. Ewa Miernowska, the festival has quickly become an annual celebration of Polish cinema. Since then, it has attracted hundreds of viewers each year and is now a major cultural event at the University of Wisconsin–Madison and the Greater Madison Area.